Animal Success Stories
Click a letter to find an animal or
view all
.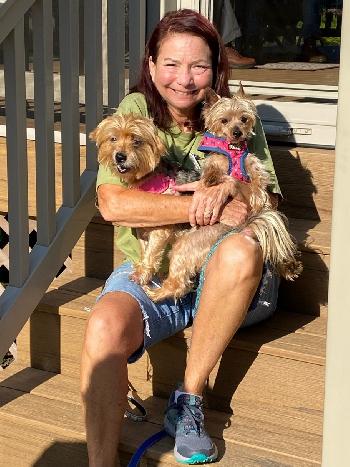 Bohde
Little Bohde became a "foster failure" on September 3rd. He has been renamed Bon Jovi and answers to Jovi. He came into his foster from a Humane Society after his owner could no longer care for him. He is 11 years old, weighs 6 pounds and has no teeth. Initially, he had trust issues, not allowing anyone to pick him up. He would bite when touched. An xpen was used in his training, where he felt safe. Foster mom spent many hours beside the pen, talking to Jovi and reassuring him that his life would be ok. The vet wanted him to gain some weight, so a lot of effort was put into nutrition, which also resulted in improved behavior after two months' time. During his time as a foster, he received up to date vaccinations as well as neutering. His fearful attitude slowly improved after many consultations with SAY members who were so supportive when I became discouraged. Jovi loves long walks with Foster sister, Roo. He displays an attitude of joyousness during his walk, sniffing and peeing on every mailbox. He tells us when he needs to go out and does a good job listening. He has picked up two ounces and seems healthy. He displays the characteristic Yorkie twirl when he wants something. I decided he should not go through this all over again, since his separation had caused so much anxiety. He is well loved by his new mom, Janet, as well as friends and family. Congratulations Bohde!!!
Signora Vittoria
Signora Vittoria is our 7th SAY rescue success story. Having just lost Dino (our 5th), we needed another companion in our lives. SAY provided the path yet again and Signora Vittoria came into our lives. This little bundle of energy needs to yet learn a few things, like when a leash is attached, it does not mean and roll over. how to properly drink out of a water dish. However, her outdoor potty skills are nearly perfect when she can she knows where the wee-wee pads are and uses them. Her devotion to her adoptive mommy is unquestionable (she could have been named Shadow). She is almost a mountain goat with her ability (and apparent need) to jump into chairs and up onto counters when available. (Yes, we will continue to discourage such activity.) She is our very first pup to know how to play with toys and chases them with gusto. Letting them go however, is going to take some time…which we have plenty of, and will gladly be dedicating to the task. A true lover of belly rubs, Signora Vittoria is a delight and a handful at the same time. We can't wait to see what she has in store for us in the coming years. Welcome to your forever home, Signora Vittoria. Congratulations Signora Vittoria!!!
Dazzle
I am so happy and thankful to SAYR for giving me the opportunity to Foster a sweet little pup named Dazzle! As soon as I met her, I admit that I fell in love! She was a bit nervous at first, but within a few minutes, snuggled right up to me, and to be honest, she has not left my side since then! And her introduction to my little buddy, Bo….my nine year old Yorkie….was just as smooth! There was certainly a lot of sniffing goin' on, but the two of them hit it off and I am thrilled that Bo now has a new "best friend"! We still have work to do, as Dazzle needs her dental work done in a few weeks, and we're checking her for allergies, but caring for this little sweetie, and our future of sharing cuddles and kisses and adventures with her and Bo just fills me with joy! I have now joined the ranks of Yorkie Moms who are "Foster-Fails"….and so very thankful to SAYR for letting me into that very special club!! Congratulations Dazzle!!!
Frisbee
After having lost our beloved SAY Rescue Yorkie Brutus, who died suddenly in his sleep at the premature age of 11 -- thus depriving his bonded 8-year old SAYR "sister" Gracie aka Prissie of her life-long partner -- we have adopted little Frisbee, now known as Gustav. He gets along with his new sister perfectly well, and is a natural fill-in for her late brother, happily joining in whenever his new sister greets the wildlife in the window. We are so happy and thankful that SAYR gave us the opportunity to foster and then adopt the little guy, both for our sake and for that of our surviving adoptee. From stray to beloved new family member. Congratulations Frisbee!!!
Skylar
Hooray for Skylar now Scarlett! She has a loving forever family. Lindsey, Harley, their daughter Katelyn and "Chippin" (SAYR Rescue 2020) drove in the rain to Fairfax to meet Miss Skylar. Skylar of course had to sit in everyone's lap. Lindsey first with kisses, then Katelyn and finally Harley where she relaxed and laid down. Chippin and Skylar did the obligatory sniffs without any issue. The humans talked about Skylar's traits, meal and medicine routine as Skylar and Chippin mingled. Along with Foster Mom, everyone took a walk together. Skylar hesitated at the door but once she knew Foster Mom was coming she trotted right along. Upon return to the house, the humans reviewed and signed paperwork and then it was time to pack all Skylar's possessions and head for the car. Out the door everyone went with Chippin in Lindsey's arms, Skylar in Harley's arms and Katelyn proudly carrying Skylar's possessions. While pictures were taken, Skylar was relaxed in Harley' arms. Foster Mom couldn't follow to the car as she probably would have had tears of joy for sweet Skylar's adoption and tears of sadness at losing the best cuddler ever! It's reported that Skylar relaxed and slept in Katelyn's lap on the drive home while Chippin commandeered Skylar's bed in the seat beside. It's for sure Skylar knows when she's loved and Chippin is already sharing his people and being a good brother. From a shelter where she might have been euthanized due to the size of her tumor (one pound), to two interim foster homes while in route to Foster Mom in Virginia, Skylar has benefitted from SAYR's commitment to rescue and care for her. SAYR covered her veterinary costs of tumor removal and dental care in excess of $6,000. Now Skylar begins her life anew in her forever home as "Scarlett". Thank you Lindsey and family for welcoming this special needs Yorkie Sweetheart into your hearts. Congratulations Skylar!!!.
Click a letter to find an animal or
view all
.